Hey, I'm L0lx. This is my second guide, my other one is the pure guide

Do you want to be rich? Do you want an ags, or a dfs, or any other expensive equippment? Well, you've come to the right place. With these money-making secrets, you'll be making million...even billions, fast!
NOTE: Aaron, if you want me to take down any of these methods, just tell me

-=-=-=-Method #1-=-=-=-
Thieving.
REQUIREMENTS: None
The most obvious way, not VERY good money, but it works well if you are a low level, and don't have very many high levels to make money. Go to the skilling area, located at varrock teleport on normal magics, home teleport on lunar magics, and the teleport with the "P" on it in ancients.
Then follow these instructions.
Levels 1-50, steal from the silk stall, which gives 10k per steal.
Levels 50-80, steal from the silver stall, which gives 30k per steal.
Level 80+, steal from the gem stall, which gives 50k per steal.
And thats it :p you can make decent money from this.
-=-=-=-Mehod #2-=-=-=-
Assault.
REQUIREMENTS: Decent combat stats and 43+ prayer (unless you safespot it, then you don't need prayer, see my pure guide for how to do this)
Assault has good money making potential, if you can find the right buyer. Go to minigame teleport, and click on assault. Kill the monsters in there for points, which you can exchange for fighter torsos, rune defenders, and fighter hats, which all cost 35 points.
The level 23s give you 1 point per kill, but the level 112 generals give 3.
After you get enough points, I would reccomend buying a fighter torso, because people seem to buy those more than rune defenders.
Then, you can find a buyer and sell it for a nice profit

-=-=-=-Method #3-=-=-=-
KBD
REQUIREMENTS: Either high melee skills, or high ranged (or magic, but its kinda weak so I reccomend melee or range)
KBD has very high earning potential, but very low drop rates

The KBD drops dfs, zgs, sgs, and bgs, so you can make loads of money, but it is pretty rare.
Get your dfs or anti-dragon shield and gear up (don't worry, you don't lose your stuff if you get pk'd)
and type in ::kbd, then kill it, and hope for good drops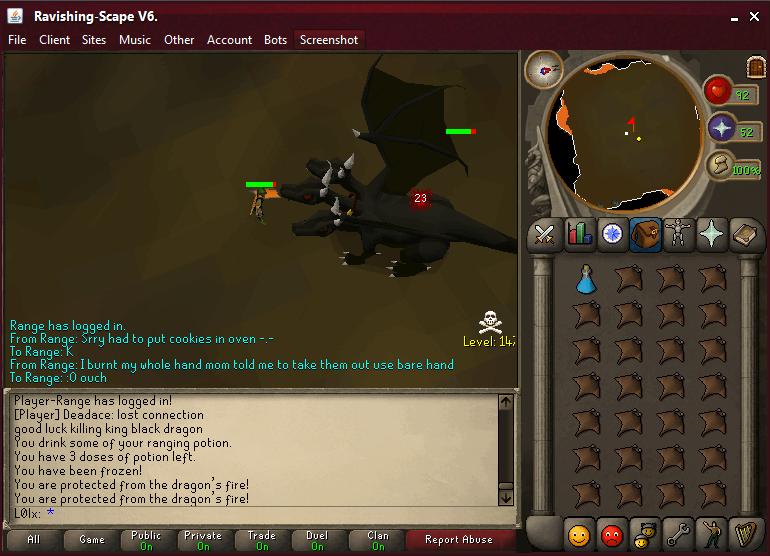 -=-=-=-Mehod #4-=-=-=-
Dust Devils
REQUIREMENTS: Good combat stats, 43+ prayer (unless you are ranging or maging)
Dust Devils are potentially the best money as of right now, because they drop AGS's!! And don't say they don't, because I've gotten 2 so far

You can either use melee prayer, or use stand in the spot pictured below and range/mage them.
NOTE: AGS is not a common drop, so don't expect one in only a few kills.
There are other ways, such as pking, but they are self explanitory

If I find any more good ways, I'll add them. Thanks for reading!